From coffee shop punch cards to hotel rewards, loyalty programs are incredibly popular. Some of the most effective of these programs are those that set up customer activities that are essentially games: McDonald's Monopoly promotion and the "collect and win" soda bottle cap promotions are some of the best known.
Creative Ways to Encourage Loyal Customers
One way some enterprising companies are encouraging repeat consumers is by creating scavenger hunt-style games. Whether sending customers to sister stores, other company affiliates, or allied businesses, organized games encourage players to complete certain tasks, record their completion, and return to the original establishment. The customer earns some sort of rewards along the way, potentially culminating in a big reward at the completion of a longer program, and the company gets a boost in business. Recording achievements in passport-sized journals is fun and lets participants have a tangible log of their progress (and how close they are to the next benchmark).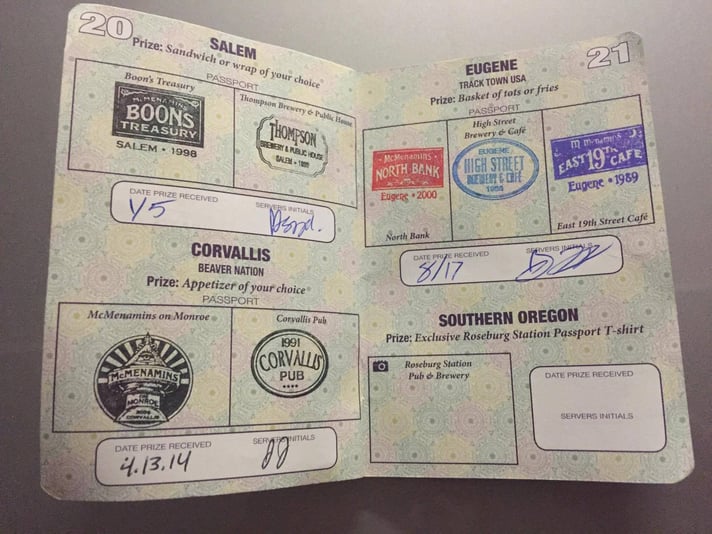 Another kind of loyalty program is a customized deck of playing cards with various activity, food, and beverage discounts. If a group of businesses contribute promotions and offers, this can be a great way for a community organization, travel agency, builders association, or professional trade group to encourage consumers to patronize a wide variety of members.
For example, many cities have "drink decks" with 52 discount coupons to local breweries, bars, and entertainment venues.
Although these don't engage consumers by encouraging completion of a set progression of tasks, they are convenient and useful to keep handy (in a backpack, purse, or car) and can be a fun way to help make the "what should we do tonight" decision or help you try a service provider you hadn't considered.
Marketing with Tangible and Virtual Appeal
These programs are well suited for a variety of industries. Associations of local businesses can work together to create a richer customer experience (like local craft distilleries within a neighborhood creating a "Distillery Row" promotion). Restaurants, bars, and entertainment purveyors that have numerous locations can easily plan and put together a program incorporating things to see and do at each site, methods to log in guests' progress, and different levels of rewards. Including incentives for tagging photos and checking in on social media makes these campaigns even more organic and successful.
For example: A popular Northwest chain that operates restaurants, bars, hotels, and concert venues has a loyalty program with a small booklet, which you must purchase for $25 to begin the program. Entry in the program gets you discounts off drinks and food at the affiliated establishments, and the colorful booklet has spaces like a passport.
When you complete each of the tasks – which are things like "find the picture of the woman with a beehive for a hat" in one of their hotels – you show your proof (a photo of yourself with the picture, tagged in social media) to an employee, who stamps your passport in the appropriate spot. When you've accomplished a certain number of tasks in certain categories, you receive small prizes, like branded merchandise or free appetizer. Completion of the entire booklet earns you rewards like hotel stays and concert tickets, discounts on merchandise and services, and admission to exclusive events.
Programs like these are great ways to build brand loyalty and turn casual customers into brand ambassadors. For more print marketing and business tips, explore the rest of our blog!